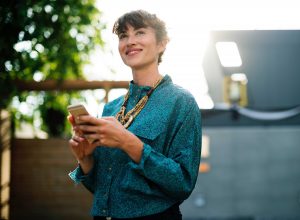 Believe it or not, prospecting for business can bring immense peace of mind. Often real estate agents refer to prospecting as 'cold calling'. Stop doing that! It's like telling a child, "Don't climb the tree" – his or her subconscious mind only hears, "Climb the tree". Start telling your subconscious mind that prospecting is 'warm calling', and you will start to feel differently about something that typically feels frightening. And as you warm up to it, know that it can resolve many issues of uncertainty, fear and overall pain in your life.  You see, when you prospect for business, you are doing something for you! When is the last time you did something for yourself?
Our mates or partners who are not in sales, ask us repeatedly, "Did you sell a house today?" This redundant question causes much pain. We have no control over when we will sell a house. Yet, we do have control over prospecting. So, when the dreaded question is asked, you may reply, "You know what I did do? Something that I have control over – I owned my day – I went prospecting and I qualified 12 people". And you can say this with your head held high, because you will feel in control and pleased with yourself. You are in the driver's seat. You will redirect the attention of the person inquiring from results to action. Both are powerful, yet the latter is controllable, and ultimately yields results.
When you prospect, you own your day and when you own your day, you feel empowered. We could all use a little of this. You see, we think that the sales result in empowerment, but in reality, putting effort into an action which yields results is more powerful. To do this you have to learn how to say, 'no', to others and to time wasters, and 'yes' to the majors; prospecting and follow up. Think about it, when you prospect how do you feel during and after? You may start with feeling butterflies, but as you continue, they start to fly in alignment and you start to feel empowered, and at the end you definitely feel accomplished. If the Law of Attraction states, "You become what you think about," the result from this action means you would start to attract accomplishment! What a novel idea; practice feeling accomplished through prospecting and attract more business because you have created that mind state. This is a way cooler idea than waiting for someone else to make you feel better by contacting you. That could take forever to happen!
A client recently admitted to me, "When I prospect by knocking on doors I feel amazing, I have zero worries those weeks.  But when I don't knock, and even when deals are closing that week, I still worry. Closings do not take away my fear the same way the action of prospecting does." That is powerful. I believe it is because my client is in charge, taking action and creating peace of mind by doing something worthwhile.
So, get to work and take responsibility for your production, your well-being and your peace of mind!  Go out and talk to people in an organized fashion, four times a week and start chasing down cars and leaping over tall buildings because you are in control and empowered by your own action!
Contributor: Erica Nasby
The statements made in this article have not been evaluated by Health Canada or the U.S. Food and Drug Administration. None of the information presented is intended to diagnose, treat, cure or prevent disease.