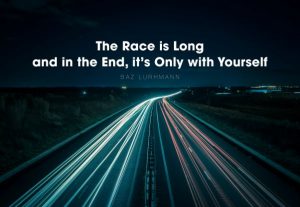 A commentary by Melanie Robitaille, Sr. Staff Writer & Graphic Designer
Spending time in the fast lane throttling toward our goals in life is certainly a necessity sometimes, but (and this is a big one), going too hard, too fast, for too long always results in loss. Whether it's missing out on moments, or failing to stop before you crash, you lose sight of everything around you because life becomes a blur.
Chances are you know the feeling, as do I, when life somehow takes control of you, instead of the other way around. The warning signs present themselves in various ways for various people, but for me forgetfulness, unusual errors, and sudden reliance are all huge indicators.
Like me, and for those with other dominant personalities, I'm sure many of you have had a hard time heeding these cautions. So, after spending almost an entire year dealing with repeated illness after illness, my goal is not only improving my ability to see the signs, but also learning when to change lanes and slow down.
The negative connotation of being "passed by" is all a matter of perspective, and mine is changing. I can feel it. I've begun to ask myself, is there really harm in slowing down to take in more of the world, so long as I'm still moving toward my goals? More often than not my answer has been no. I believe that you only get to live this life once, and I don't want to arrive at the finish line wondering where the time went and why I didn't use it to enjoy more. Do you?
At first, it became all about balance for me; that elusive concept we hear so much about. But I just wasn't able to accomplish it. I started to believe it was impossible, and that's because giving everything in your world equal attention is about as achievable as attaining perfection. I would learn that thinking about harmony instead would bring me real results. Harmony is that sweet spot in life where everything gels because you find the best amount of time to attend each want and need.
However, slowing down is a process, not an event, and comes more naturally to some than myself. So, I've had to tailor some holistic practices in my life to find better health and harmony. It means exercising in stints between responsibilities and taking cues from around me to sit when others have taken a break. I'm now very possessive of my lunch hour; a sacred time for me to do something for myself, and because I treat it this way others know to do the same. I'm also a classic hugger, but I've learned to live in each embrace a little longer and sway a minute. It's a moment of impact that not only helps to slow me down, but also whoever I'm with. I'm finally realizing the true depth of my need to connect with nature too, as in get as far from the noise of industry and technology as possible. Standing long enough to hear the hum of nature by the water, in a field, or a forest, you'll hear and feel your heartbeat slow to its pace. As a busy mom, sometimes it's as simple as taking an unusually long bath behind a locked door.
I also incorporate a nightly meditation practice to help me unwind and fall into a better sleep. Do I have an altar to sit at on a pillow with incense burning? No. Reality check – I'm lying in bed with my husband breathing next to me, so I customize to create harmony. I lay on my back, breathing deeply and consciously releasing tension from every part of my body from face to toes. I then use a Hum-Sah technique as I breathe, saying Hum in my mind as I inhale, and Sah as I exhale, to help quiet my busy mind. If it's an extra overwhelming day, I create a note in my phone before bed with some to-do's, because it's better out than in.
But remember, harmony doesn't mean a closed routine. It also means including room for change and flexibility within your life to introduce new things, so you continually learn how to re-tune and find new coherence in your world. I invite you to look for ways to bring harmony into your day-to-day, and I'd love for you to share them here in the comments. My hope is for a life filled with harmony for us all, to keep our engines purring all year long.
The statements made in this article have not been evaluated by Health Canada or the U.S. Food and Drug Administration. None of the information presented is intended to diagnose, treat, cure or prevent disease. This is a personal account and individual experiences may vary. Always seek the advice of your physician or other qualified health provider with any questions you may have regarding a medical condition.