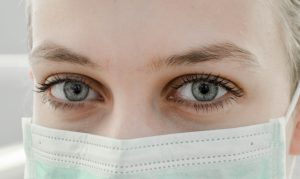 If you're lucky enough to be working from home, you might also be feeling a bit frazzled. It's possible you also laughed at the "lucky" part sardonically and trust us, we feel you. For those not working who are equally, if not more so troubled, we wanted to share a few things that might help ease your isolation woes, keep you occupied, and put you in a better place emotionally for when this too has passed.
For those working from home: It's extremely important to separate work and home life as best you can. Sure, that's easier said than done because everyone is working with a different set of funds, circumstances and space, all of which need to be taken into consideration, BUT also consider that if you're currently trying to both work and live somewhere, creating distinction between the two will help avoid the stress of blurring the lines.
If you can set up an entire room that's wonderful but if not, don't fear! Simply figure out what's necessary for you to get your job done from home, whether it's technology (laptop, tablet, phone, printer, WiFi connection) or furniture (chair, table, desk, lamp) and make sure you have easy access to those things in your workspace. Here are a few ideas if you're having difficulty picturing the perfect office set up.
You'll want to find a way to keep this area separate so that when you're finished for the day you really can leave it behind. If space is an issue, try to make it so you can easily stow away work items and revert the space back to its original purpose when you're done.
For those not working: You had a schedule and thought you didn't like the everyday routine, but you're finding that you dislike not knowing the day of the week even more. Here is the thing though, now is the time to get cracking on that list, you know the one we are talking about, with all of those things you pushed to the back burner for lack of time.
It could literally be any number of things like, scrubbing and painting the baseboards, re-grouting the tile in the bathroom, or tidying up junk drawers and cabinets. Hit up your Pinterest boards, try those recipes or projects you've always wanted to. Get outside and do some yard work, or start the garden you've been dreaming about. The change of scenery, breathing in the fresh air and digging in the earth is not only good for your health, but a vegetable garden can also save you a few bucks or trips to the store.
Many people are going through closets and finding ways to recycle or repurpose things they've held onto for ages. Though lots of places won't take donations at this time, you can still set things aside and maybe with the extra time you'll surprise yourself with just how creative you can be.
For those returning to work: Many states and provinces are slowly reopening. While that is a positive sign, please remember to check with each establishment about the protocols put in place to keep you safe. Most areas are still recommending people wear a mask that covers both nose and mouth, stay at least 6 feet apart, and to wash your hands and sanitize when returning home.
These are unprecedented times for everyone so if you don't want to get things done around the house, can't designate a separate work area, or you aren't thrilled to be heading back to work that's okay too. These are just a few helpful ideas to remind you that we're in this together and wish you all good health and wellness throughout!
By Maegan Carrasquillo, Staff Writer
The statements made in this article have not been evaluated by Health Canada or the U.S. Food and Drug Administration. None of the information presented is intended to diagnose, treat, cure or prevent disease. This is a personal account and individual experiences may vary. Always seek the advice of your physician or other qualified health provider with any questions you may have regarding a medical condition.