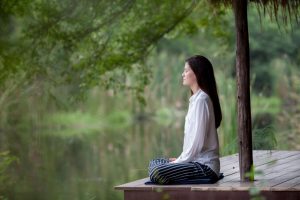 Part 1: Take a deep breath. Close your eyes. Concentrate this next breath through your left nostril. Use your mind to control your breath. Repeat eleven times. In the thirty seconds it takes to practice this technique, your body, mind and breath shifts. It is a fact.
Part 2: See, sense, feel or imagine the place in your life, in your body, in your mind where you hold the most tension. Hold that knowingness. Come to an awareness of where you are gripping, holding, or judging. Be with it.
Part 3: Offer that experience over to your highest consciousness. Turn it over to be forgiven, loved and healed. It is a choice rather than a request. It is a here-and-now experience of consciousness. It's you.
Surprisingly, this is all it takes to relax. Being in the flow. Acknowledging when something feels right and knowing when something is off and respecting that too.
Tension is created when we are out of spiritual alignment. We might call it a moral crisis, an ethical dilemma, or a judgement call. In the end, our discomfort usually comes from a conflict between our ego demands and our angelic nature.
Relaxation is an essential practice for physical, spiritual and mental well-being. In our culture, we've mistakenly trained ourselves to relax by watching television, eating, or by drinking or smoking. This really isn't relaxation. These are stimulating activities.
The body becomes our repository for all these residual thoughts and experiences. The practice of yoga is a perfect way to purge the tension. That is why after each yoga practice there is a period of rest called Shavasana.
This time allows the opportunity to soak in the effects of the practice, carving out a connection with our own natural state. True relaxation is rejuvenating to the nervous system, promoting glandular shifts and promoting self-understanding. This is especially true for women. From a yogic perspective, we can create anything. From this magnificent power comes the requirement to rest, recharge and reposition ourselves on a constant basis to ensure that our light shines brightly.
Contributor: Salimah Kassim-Lakha
The statements made in this article have not been evaluated by Health Canada or the U.S. Food and Drug Administration. None of the information presented is intended to diagnose, treat, cure or prevent disease.