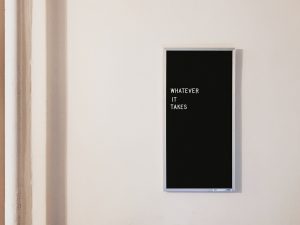 It seems like the perfect time to say, "We did it!" It's been roughly one year since the shutdown for most parts of North America. But really when you think about it, what have we done this past year? Though we've all been "in this together" each persons experience has been totally unique to them. Here's a look at the last 12 months in thoughts, events, and trends.
March 2020: At the beginning of the month, Sophie Trudeau, the wife of the Prime Minister of Canada, tests positive for Coronavirus. Not surprisingly, it was during this month when both Canada and the U.S. declare COVID-19 a national emergency, restricting travel, and in an unprecedented move, closing borders. Depending upon your state or province this also marked the beginning of remote schooling for many families when schools closed for what started as two weeks and turned into months to help flatten the curve. Everybody under one roof meant that many learned just how small their home was, or how closely cramped they felt in metropolitan areas starting a real estate boom unlike anything many have seen in decades.
April 2020:  Millions across the U.S. join Canadian's already filing for financial aid as both countries roll out hefty stimulus packages to help everyone from individuals to businesses impacted by shutdowns. Parents everywhere start to realize just how important teachers are and investing in Lysol shares seems more likely than actually getting your hands on their cleaning products in stores. Mixed messages on the need for face masks solidify into mandated necessities in many areas.
May 2020: Face masks have become a fashion sensation and a must-have accessory, while others wonder whether to call it the coronavirus, the novel coronavirus, or COVID-19? The dishonorable arrest and horrific public murder of George Floyd on May 25th in Minneapolis ignites the Black Lives Matter (BLM) movement, bringing racial inequity to the forefront of North American society and media. It served as the catalyst for many mass protests and marches across the continent in support of BLM as well as opening businesses up and anti-vaccination concerns. Just when businesses were finally getting the hang of take-out and curb-side pickup, things begin to open up in Canada, with many online shoppers still waiting for their happy deliveries because of logistical complications and stock shortages. How much have we spent in shipping and what the heck is handling anyway?
June 2020: Parents realize summer vacation has officially begun after already spending months homeschooling (and in many cases) working from home at the same time. Very few, if any, summer camps and programs are open and available, or are affordable. Not surprisingly, alcohol sales rise exponentially. Many welcome the warmer weather and turn to at-home, DIY projects to keep busy. So, while the price of lumber soars, gas prices hit an all-time low making it easy for many to break away from their confining homes on road trips.
July 2020: Unfortunately, with anxiety, depression, and suicide rates steadily increasing, research now begins into the toll the pandemic has taken on mental health.  Conspiracy theories and DIY home hair styles have social media giants working overtime, and Canadian Prime Minister, Justin Trudeau and his family are safe and far away from an unsuccessful assassination attempt at his home residence.
August 2020: While some folks across North America gather together, whether severe social distancing measures were in order or not, parents face the news on what the upcoming school year will look like. In mid-August devastating wildfires ravage the American West burning over 8.2 million acres, and mentions of a second wave in the fall are becoming common place.
September 2020: The school year starts again with options of in-person or virtual learning, and some having a hybrid model of both. Six U.S. big pharma companies are making news as they race to the vaccine finish line. The world mourns the loss of renowned Supreme Court Justice, Ruth Bader Ginsburg, a long-time advocate for gender equality and women's rights, who dies of pancreatic cancer at the age of 87.
October 2020: President Trump and first lady test positive for COVID-19. Many Canadians celebrate a socially distanced Thanksgiving with fewer guests (a win for turkeys everywhere) or with electronic devices around a table to gather over Zoom. In the U.S. citizens are preparing for one of the most anticipated elections in decades, while Starlink – founded by Elon Musk – beta tests it's constellation of 900 low earth orbit satellites to make 5G internet a global reality.
November 2020: 46th United States Presidential Election goes to Joe Biden and Kamala Harris with Harris being the first female person of color to hold the office of Vice President. Americans head into Thanksgiving with some families choosing not to celebrate at all, some completely throwing caution to the wind, and others doing so only with those they've spent the last eight months with.
December 2020: There is an uptick of COVID-19 cases, which causes great concern for those figuring out Holiday celebrations. Canadian families learn that kids across the country will return to remote learning after many provinces go back into lockdown. The FDA and Health Canada each grant authorization for COVID-19 vaccines with first doses administered on both sides of the border this month.
January 2021: World news is dominated by reports of a mob of protestors attacking the U.S. Capitol leaving five dead and many shocked and appalled. President Joe Biden is inaugurated on January 20th. Canadian families learn that virtual learning will continue into early February.
February 2021: NASA's Mars 2020 mission lands on Mars after seven months. Winter storm Uri causes extreme snowfall and ice damage followed by the coldest temperatures in decades in south central states in America. Air travelers continue to struggle with the ever-changing quarantine and testing guidelines at the borders when the U.S. also reaches a milestone as more people have now been vaccinated for COVID-19 than have tested positive for the virus. It's also back to school for Canadian kids this month. There is a light at the end of the tunnel!
March 2021: Officials in the U.S. start making decisions for when students can go back to school either part or full-time, in person in many states, based on health metrics for each area. People look at how last year they posted "I'll be working from home the next two weeks and my child needs to be learning from home, you do the math! Wish me luck," to now wearing yoga pants, sort of crying, sort of laughing but completely getting things done.
2020 has been one heck of a year that no one could have foreseen. For those who've lost jobs and parts of their sanity, we feel for you. For the many lives lost, and family and friends missing those loved ones now, we stand with you and will continue to work towards a safer and better future.
Whether you worked from home while becoming your child's least favorite teacher, lost a job and binge watched far too many series on Netflix, or decided to embrace change and accomplished goals you didn't think possible before, hopefully you are reading this now having survived and maybe in some way, thrived during a full year of a global pandemic and that's something to be proud of. You could even say, we did it!
Written by Maegan Carrasquillo, Staff Writer