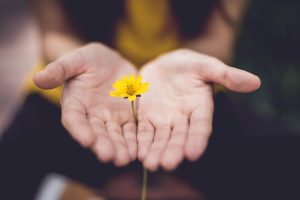 No matter where you are or what you are doing, it is safe to say there have been some very noticeable changes happening all around the world. You know the ones we are talking about; ones that will become a part of our day to day existence at this point, and the others that show people getting back to basics as well.
Children are learning to play outside again. They are riding their bikes or writing grateful messages with sidewalk chalk on driveways and walkways. Adults are joining in too, heading outside to garden, or taking time to spend playing as a family.
And have you seen the drawings or stuffed animals placed in windows, or painted rocks everywhere? Neighborhoods and towns have created fun games of I spy or scavenger hunts to encourage community when travelling around. Many establishments are grateful for business too, no matter how different it has been with recent adjustments. If you've ordered take out and picked it up curbside, chances are the staff has been extremely polite and happy to see you, some even giving coupons or cards with promotions for your next visit.
It's hard to believe that almost overnight students and teachers alike had to completely remodel the way they both learn and teach. Somehow though, it seems both have made the impossible possible. It's certainly not the same experience anyone was used to, but imagine the sense of accomplishment and pride these kids will have  and their ability to face new challenges with grace later on in life because wow have they adapted to change!
Many are working from home at this point. Those who are getting to save some money just heading into the kitchen for lunch and oftentimes even get to share more than one meal with the whole family. Like EXIT Realty, there are many companies out there allowing their employees to work remotely, follow a more flexible work schedule, and even make compromises that benefit both employee and company as one.
For those who might be furloughed at this time, the world sees you too. The amount of posts going around regularly are nothing short of amazing. People are creating again with their free time or starting new ventures because the fear of failure has been removed. Some are starting to farm and bake their own bread, no longer wishing to be so dependent upon big box stores. Others are crafting new meals each night and sharing them with a recipe or a funny story of using everything they have on hand before venturing out. Still more are sharing too, whether it's their musical gifts, storytelling, or accounting tips. Each one of you is an inspiration.
Mere months ago, a great deal of the world was waking up to go to work, spending a large chunk of the day in the office or wherever work might be. Some would even work overtime regularly just to keep up with the bills. It has become obvious just how many of us have gotten wrapped up in making a living that we have forgotten to make a life. We are not quite in the clear just yet, but if you look closely, you will see the light all around you.
By Maegan Carrasquillo, Staff Writer