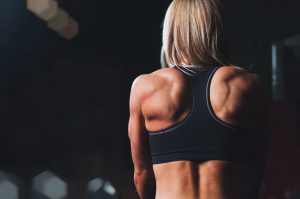 In 2018, 59-year-old grandmother, Lou Yerxa, placed second in the Grandmaster Women's Bikini category (for women 45 and older) at the 2018 GNC Allmax IFBB Pro Flex Lewis Canadian Classic competition in Moncton, New Brunswick.  In the second of our two-part series, we look at Lou's workout and read her final thoughts on elite-level body building.
THE WORKOUT In preparation for the competition, Lou started working out for one hour per day, three days per week then increased to four days and then five. "Coming from a fitness background, I didn't have as much work to do as someone starting from scratch," she explained. Up until eight weeks prior to competition, Lou did mostly resistance training to build lean muscle. She worked out by herself, relying on her years of experience to know how to make the most of her time at the gym. If there was something in her recommended workout she didn't know, she Googled it. "I had a plan, but I trained myself," she said.
At the eight-week point, Lou sent front, side, and back photos to her bodybuilding coach who adapted her routine. If she was a little round, he suggested more cardio. "The most cardio I did was 20 minutes per session on a stepper, elliptical machine or stationary bike," she said. Two weeks prior to the competition, she was sending him photos almost daily. Lou met with her posing coach once a week for the four weeks prior to the competition to learn how to pose on stage.
Lou is a C/D personality type, referring to the DISC system of personality profiling. "The C part makes me organized and the D part makes me follow through to make sure my goals aren't just stuck in my head. I go out there and get them done," she said. "The discipline I applied to my workouts was the same as the discipline I applied when I was selling real estate full time. I had goals and I set out a plan to achieve them. Not following the plan wasn't even a consideration."
FINAL THOUGHTS Lou's objective now is to gain back eight of the pounds she lost in preparation for the competition so she can build more lean muscle. Lou enjoys the discipline of the workouts more than competing on stage. "Wearing plastic heels and an itsy-bitsy bikini in front of seven judges and a room full of people was a little bit uncomfortable. I had to work up my confidence to wear that. Bill Nasby always taught us to enjoy the journey. For me, the competition itself was simply the means by which the judges evaluated the work I had done," she explained.
Lou hears from people in her age group who, while they may not aspire to compete on stage, have been inspired by her to hire a lifestyle, nutrition or fitness coach. "There are both good and bad ones. You don't need to spend three hours a day in the gym in order to accomplish what you want to do. Twenty to thirty minutes consistently is far better than two hours once a month. The same is true for making small changes in nutrition. Do what's sustainable for life."
For Part 1 of Lou Yerxa – Maximum Vitality, click here.
The statements made in this article have not been evaluated by Health Canada or the U.S. Food and Drug Administration. None of the information presented is intended to diagnose, treat, cure or prevent disease.