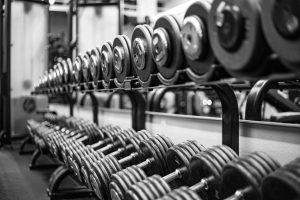 THE COMPETITION The Canadian Physique Alliance (CPA) is a group of amateur athletes who compete in bodybuilding, physique, figure, fitness, and bikini categories. On June 16th of last year, they held the 2018 GNC Allmax IFBB Pro Flex Lewis Canadian Classic competition in Moncton, New Brunswick, featuring men's and women's competitions in more than 30 categories. Lou Yerxa, a 59-year-old grandmother and sales rep with EXIT Realty Advantage in Fredericton, New Brunswick, placed second in the Grandmaster Women's Bikini category (for women 45 and older). "Training for the bikini category makes for a smaller, less muscular female," Lou said of preparing for the competition, which combines nutrition and weight training to build a stage-ready body. "The next level is figure which is a little more muscly. The third category is physique. I would have had to start bodybuilding at a very young age in order to build that kind of muscle."
In this, the first of our two-part series, Lou shares her journey to the competition and in our next installment, she shares the details of her workout.
WHY BODYBUILDING? Lou and her husband, John Yerxa, owned a gym in the 1970s. "Back then we taught high impact aerobics classes as well as weight training to people going to competition, but I didn't catch the body building bug then." From there, Lou graduated to running marathons but as she aged, she found marathon running to be less beneficial for her upper body. She ran her last marathon in 2012 at age 53.
For Lou, fitness is a lifestyle and now she works out at her local GoodLife Fitness Centre. There, she was inspired by other athletes prepping for competition. She met a husband and wife coaching team (he is the exercise coach and she is the posing coach) whose approach to bodybuilding Lou admired and they got to work. She started focused training on December 1, 2017 and made it a goal to complete in the fall of 2018 in anticipation of her 60th birthday, but after just five months she felt ready to try a competition. "My body was adapting well to the nutrition and I was training without injury, so I went for it," she said.
NUTRITION Lou hired a nutrition coach saying, "I know a lot about fitness and nutrition, but I didn't know how to tweak them, so I would be stage ready." Lou's coach recommended a regime involving macro, rather than calorie, counting. Macronutrients are proteins, carbohydrates and fats, and counting them involves measuring the grams of each in one's daily diet. "For every pound of my goal weight, my coach suggested 1.5 grams of protein, 1.2 grams of carbs and .4 grams of fat per day," she said. "My goal weight for competition day was 115 pounds (I'm 5'3 1/2" tall). I started out at 130 pounds and in six and a half months I was at my goal weight."
Lou sent her coach weekly photographs of herself taken from the front, back and sides and he adjusted the macro ratios in her diet, increasing the protein as the competition neared. To help keep her on track, Lou used the MyMacros+ app and she ate five meals per day. "Every two hours I was feeding my body, so I could exercise properly," she said. Lou ate whole foods with the addition of a little protein powder towards the end of her training, and drastically increased her water intake from two to eight litres per day. The only tweak to her regular regime of supplements, which included omega3, a multi-vitamin, vitamin D and magnesium, was the addition of probiotics. Lou credits ridding her diet of simple sugars with her feeling like "a million and ten bucks." She treated herself with dark chocolate.
Continue reading about Lou's journey here.
The statements made in this article have not been evaluated by Health Canada or the U.S. Food and Drug Administration. None of the information presented is intended to diagnose, treat, cure or prevent disease.