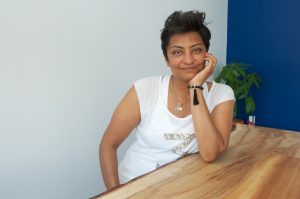 A car accident in 2004 started Salimah Kassim-Lakha along a path of healing and self-realization which led to her training as a Yogi. She graduated from the School of Yoga Therapy and Natural Medicine with distinction in the disciplines of Kundalini Yoga and Hatha Yoga under the direction of spiritual teacher, Agia Akal Singh Khalsa.
Following her continued education in India at the Sivananda Ashram in Kerala where she began in-depth study of the science of mantra and meditation, she returned to Canada to pursue Laughter Yoga training which added light heartedness and joy to her practice. In 2010 Kassim-Lakha became a master Laughter Yoga teacher, training directly with Madan Khataria, the founder of Laughter Yoga International.
In 2010 Kassim-Lakha founded Yogapalooza, an outdoor celebration of music, movement and meditation and the first festival of its kind in Canada.  As the former Executive Director of Yoga Without Borders, a service and activist organization dedicated to developing leadership in the global community, she focused on developing and implementing strategies toward the eradication of institutionalized violence against women and girls worldwide.
Kassim-Lakha is a frequent guest speaker at the offices of EXIT Realty Corp. International on a variety of health and wellness topics and her dynamic teaching style has been featured on CP24 and the Steven and Chris Show. In 2011, she was voted Yoga Teacher of the Year by Natural Health Care Canada.
Salimah Kassim-Lakha is the Director of the Yogavision Center in Mississauga, Ontario and can be reached at 647 519 2245 or salimah@yogavision.com